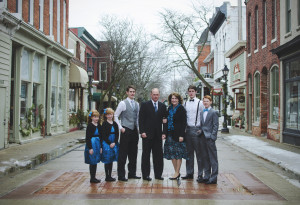 Pastor Kevin Dail was born in Durham, North Carolina. He spent the majority of his life at Fellowship Baptist Church where his father served as an associate pastor. Four years of his life was spent in the Virgin Islands where his family served as missionaries. Pastor Dail was called to preach at the Bill Rice Ranch on August 10th, 1985. He graduated from Liberty Christian School in Durham, North Carolina in 1987.
Pastor and Mrs. Dail attended Hyles-Anderson College in Crown Point, Indiana. Pastor Dail graduated with a Bachelor of Science degree in Theology in 1991, and then with a graduate degree in 1993. Mrs. Dail graduated in 1992 with a Bachelor of Science degree in Education. She now teaches part time at Lakecrest Baptist School.
Pastor Dail joined the staff at Fellowship Baptist Church in the summer of 1993 and served as an assistant Pastor for 21 years. Mrs. Dail served as a teacher at Fellowship Baptist Academy as well as serving in the Primary Department at Fellowship Baptist Church.
We are delighted to have Bro. Kevin Dail as the Pastor of the Lakecrest Baptist Church. Pastor Dail was voted as pastor on September 10, 2014. Pastor Dail and Mrs. Dail have five children: Timothy, Philip, Stephen, Jaclyn, and Kathryn.